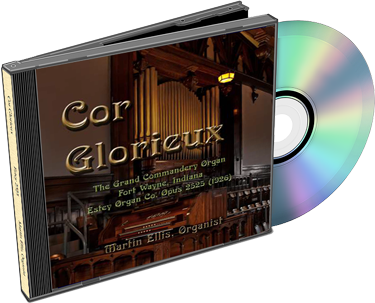 What will we leave to our kids and grandkids?
We build buildings of Styrofoam, and paint them to look like stone, and
compliment the fake by calling it "realistic."
Will those that follow us know the smell and crackle of a new book as it is
opened for the first time? Will they recognize the randon colors and textues of real wood,
or the sweet, creamy taste of real butter? Will they be able to experience in person the
grandeur of a symphony orchestra or the pealing thunder of an authentic pipe organ?
This recording is a plea for funding to save a glorious and authentic instrument
so it can be shared. It was made possible through the donated talents of an international
concert organist, two professional organ builders, and several enthusiastic volunteers who
believe this organ should be restored, maintained and shared, and have united their hard
work, knowledge, and talent to make it so.
If these efforts are successful, this recording will be a proud part of a great
instrument's long history. If not, it will serve as an archival memory of what might have
been. It will be a vision seen through a glass darkly, lost to all but memory.
The project is a big one, and will require both major funding sources and
individual donations. You can help by sending your tax-deductible contributions.
Limited Time Offer
Make a donation of $30 and you will receive a copy of
Cor Glorieux as a token of our appreciation.
Estey 2525 is a 501C3. Donations are Tax Deductable.
Donations can be sent to:
Estey 2525, 216 East Washington Blvd., Fort Wayne, Indiana 46802


For more information about the Organ contact Ed Snyder at 260-426-4728
Track
Title
Composer
Hear a Sample
1
March of the Bowmen
Frederic Curzon (1899-1973) arr. Ellis
2
Concerto in A minor (after Vivaldi) BWV 593
I. Allegro
J.S. Bach (1685-1750)
3
Symphonie Gothique
III. Andante Sostenuto
Charles-Marie Widor
(1844-1937)
4
Quatre Pieces en Forme de Messe
IV. Postlude
Denis Bedard (b. 1950)
5
The Estey March
R.O. Eaton (19th cent.)
6
On a Spring Note
Sidney Torch (1908-1990)
7
Fanfare
Paul Dukas
8
Melody in Mauve
Richard Purvis (1913-1994)
9
America, the Beautiful
arr. Rex Koury (1911-2006)
10
Hark! The Herald Angels Sing (carol)
Lani Smith (20th century)
11
Bring a Torch, Jeanette, Isabella
French Carol (arr. Chapman/Ellis)
12
Good Christian Men, Rejoice!
arr. Denis Bedard (b. 1950)
13
Sleigh Ride
arr. David Junchen (1946-1992)
14
What Child is This?
arr. Charles Callahan (b. 1951)
15
Nutcracker Fantasy
Tchaikovsky (arr. Ellis/Everly)